P.A.T.C.H
CAREER INSTITUTE
Call Today : (843) 744-1249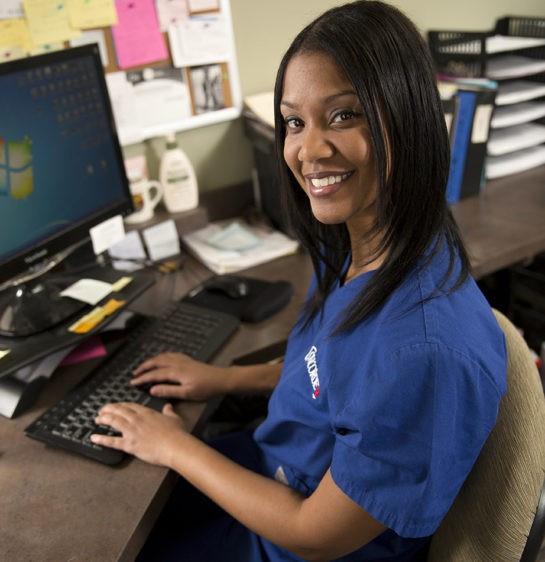 Medical Office Administrative Assistant
Medical Office Assistants perform the daily tasks that keep doctors' offices, clinics, and hospitals functioning. They are customer service representatives above all; communicating with patients and insurance companies, collecting data and payments from patients. The MOA Assistant schedules different kinds of medical appointments: doctor's appointments, out-patient and in-patient procedure appointments; welcomes the patient upon arrival to appointments and performs registration. The MOA Assistant is a specialist in setup of patient paperwork and in communication with patients via telephone, correspondence, and in person, so all other medical team members will be able to follow up with the patient account seamlessly.

MOA Assistants also support the office in duties such as ordering of medical and office supplies, coordinating staff work schedules, processing timecards, and completing hiring paperwork. Depending on the need and size of the medical facility, MOA Assistants either support in all these mentioned areas or specialize in one or two such as collections, payroll, account receivables/payable, insurance billing/coding, scheduling, or registration.
For starters, PATCH Career Institute will prepare you to pass the National HealthCareer Association (NHA) Credentialing Test. Further, our course takes you beyond the NHA test knowledge into the full-cycle knowledge you will need to begin to grow into an Office Administrator or a Specialized Administrator.
Free ONLINE
MOAA Course Begins
October 9th, 2023
Medical Staff Secretary
Front Desk Patient Service Representative
Patient Registration
Medical Appointment Scheduler
Patient Account Representative
Medical Billing & Collections Clerk
What will I learn in this course?
Call Management and Techniques

Scheduling Appointments

Written Communication

Patient Education/Courteous Consideration Dealings

Electronic and Print Mail Processing

Understanding Policy and Procedures

Facility Care and Maintenance
Class is online and asynchronous.
Start Date: October 9th, 2023
Duration: 8 Weeks (Self Paced Course)
Available to South Carolina and North Carolina Residents
Med-N-Tech™ is the firm that specializes in assisting PATCH graduates to find employment. Upon registration our students are put in contact with a Med-N-Tech™ recruiter & career coach to begin to work together with the student towards placement after graduation. PATCH Career Institute nor Med-N-Tech LLC guarantee job placement.
Medical Terminology

Medical Laws & Compliance: OSHA, HIPAA, etc.

Computer Tool Use: Electronic Health Records
Daily Operations and Safety in a Medical Office

Health Insurance

Basic Diagnostic Coding

Basic Medical Billing

Basic Human Resources: Hiring & Staff Management